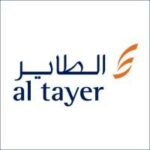 About Us
As a leader in luxury retail in the Middle East, Al Tayer Group's retail division, Al Tayer Insignia, hosts a portfolio of some of the world's best luxury brands in the fashion, jewellery, home and department store categories. Complementing its position in luxury retail, Al Tayer Insignia has also built new frontiers in lifestyle retail, representing leading brands in the Beauty, Home, Fashion and Hospitality sectors. Our brands include Bloomingdales, Harvey Nichols and Armani to name just a few!
About The Role
To ensure excellent customer service, in this 2 year contract through effectively managing the department team; controlling and monitoring department operations including merchandising and stock control in order to achieve the department target.
What You'll Be Doing
 You will achieve excellent standards of customer service in the department by directing and coaching the sales team, and leading by example on the shop floor.
Analyse sales data to maximize sales on day-to-day basis.
Resolve customer complaints effectively, either by dealing with them personally or passing them on
the store manager. Ensure that the standards of grooming, presentation and professional conduct are set and maintained.
Motivate team members to achieve shared goals and acknowledge team and individual successes.
Ensure all new starters are inducted into the department team.
Ensure all department staff are trained on all aspects of the department in liaison with the store manager and training department
Monitor the stock in the department and inform the Store Manager of any depleting stocks, stock loss to take corrective action.
Ensure the department is merchandised commercially and visually as per the guidelines provided by the brand.
Maintain high standards of housekeeping with regards to the sales floor, fitting rooms and stock areas.
Comply with all company policies and procedures including refund and exchange policy, security, health and safety policies etc.
About You
Education: High school qualification.
Experience: 4 – 5 years' experience in Sales or Customer Service environment.